In Their Own Way
In Their Own Way is a stunning collection of poems about family and dealing with change. From Chella Courington, a talented poet with a unique and nuanced voice, each poem will leave its mark on your heart. The first book selected from Crow Hollow Books first open reading period, and one most readers should have no trouble understanding why it needed to be published and available to the world.
---
was it more than a kiss
Chella Courington's poetry chapbook, was it more than a kiss, begins with poems about young love and sexual discovery to poems largely about troubled marriages.
---
Love Letter to Biology 250
Love Letter to Biology 250 is a chapbook of micro fictions by Chella Courington. This manuscript pinged our nerd-brains when we first read it, flirting with obscure tidbits from Biology lectures—those things we remember because they're strange—crafted into really tiny stories.
---
Paper Covers Rock & riplicity: Poems in Threes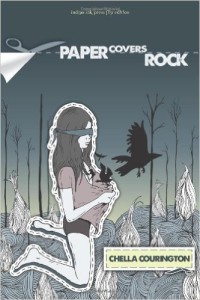 Poetry so sharp it will cut the roof of your mouth. One snips authentically ar
ound the edges of an erotic coming of age tale, then plunges into the heart of what it means to be a woman; the other stabs precisely into the chaos of love, loss and levity all with complete ubiquity. United in Indigo Ink's debut "flip" edition, two pointed, poignant poets will cleave you, leave you ragged with their jagged lines and barbed writing.
Paper Covers Rock is a collection of poems, largely in first-person persona, that explores coming-of-age as perpetual transition-birth, death, love, loss, sex, illness, and transcendence. Inspired by William Blake's line, "To see the world in a grain of sand" (Auguries of Innocence), many of the poems suggest that we can find vast truth in small events, life continually unfolding its mystery in everyday happenings. Primarily narrative, the poetry is lean, direct and grounded in fresh images.
While Triplicity: Poems in Threes didn't start out as a collection of triplets, these utterly disarming poems fit quite snuggly into themed triads. At once ethereal and cryptic, McHenry writes eloquently about everything from pigs to prophets, from Vegas to victims, and the dangers of falling love with a Vulcan and does so with the experience of a woman navigating her femaleness.
---
Virginia Woolf and Her Influences: Selected Papers from the Seventh Annual Conference on Virginia Woolf
Virginia Woolf and Her Influences presents papers from the Seventh Annual Conference on Virginia Woolf at Plymouth State College in New Hampshire June 12-15, 1997. These papers fall under the theme of 'the influence of something upon somebody' as it arises throughout Woolf's work.
---
American Society: What Poets See
This 210-page anthology, edited by poets David Chorlton and Robert S. King, is our Good Works flagship. Proceeds from sales help fund the rest of the Good Works projects.
Featured: Austin Alexis, Gilbert Allen, Jennifer Arin, Kate Bernadette Benedict, Nina Bennett, Kevin Brown, Melissa Carl, David Chorlton, Alex Cigale, James Cihlar, Jim Clark, Kelly Clayton, Chella Courington, Barbara Crooker, J. P. Dancing Bear, Erica Dawson, Diane Elayne Dees, Anthony DiMatteo, David Ebenbach, Alan Elyshevitz, Margot Farrington, Rupert Fike, Alissa Fleck, Barbara Gabriel, Bill Glose, Les Gottesman, Michael Gregory, Lois Marie Harrod, Michelle Hartman, M. Ayodele Heath, Kathleen Hellen, Terry Hensel, Graham Hillard, H. Edgar Hix, Karen Paul Holmes, Paul Hostovsky, Joseph Hutchison, Jason Irwin, Roshanda Johnson, Lawrence Kessenich, Alan King, Robert S. King, John Laue, Sean Lause, Brenda Kay Ledford, Laura LeHew, Jean Thurston Liebert, Andrew Shattuck McBride, Jim McGarrah, Deborah Mashibini, Nancy Carol Moody, Janell Moon, George Northrup, Scott Owens, Judith Pacht, Christina Pacosz, Lee Passarella, Garth Pavell, Joel Peckham, Diana Pinckney, Kenneth Pobo, David Radavich, M. S. Rooney, Linwood Rumney, Tina Schumann, Eric Paul Shaffer, Marian Kaplun Shapiro, Michael Shorb, Nancy Simpson, Ron Singer, J. D. Smith, M. R. Smith, Laura L. Snyder, The Poet Spiel, Scott T. Starbuck, Carol Steinhagen, Susan K. Stewart, Julie Stuckey, Wally Swist, Judith Terzi, Mark Thalman, Charles Thielman, Alice Toporoff Wallace, Connie Walle, Ed Werstein, Dan Wilcox, Christopher Woods, Marianne Worthington, Andrena Zawinski
---
Up, Do: Flash Fiction by Women Writers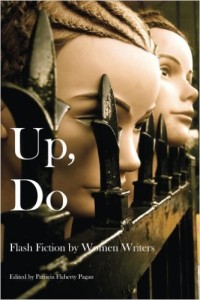 Featuring new flash fiction from award-winning short fiction writer Kathryn Kulpa, popular, award-winning novelist Donna Hill, novelist and poet Catherine Edmunds, award-winning science fiction and short story writer Melissa J. Lytton, as well as many more talented women writers and activists.
Editor: Patricia Flaherty Pagan
Cover art: "Hope Is a Thing With Wings"
by Jodi Sh. Doff
To purchase this book: www.spiderroadpress.com
5% for healing: Five percent of the proceeds from this book will benefit rape crisis and veterans' charities in Texas and New England.
---
Twice Upon a Time
In creating the second anthology of 2015, Twice Upon a Time (244 pages), Kind of a Hurricane Press asked our authors to let their imaginations run wild with childhood memories, delve into the depths of, and if necessary, even re-create fairytales.  As always, our authors pulled out all the stops, and created, what we believe is one of our finest, and most universally appealing anthologies to date.  Twice Upon a Time has something for everyone. Enjoy.
---
Shadowed – Unheard Voices
Whether found between the crumbling pages of a forgotten family album or shoved into a dusty cardboard box at a garage sale, we've all come under the mystical influence of unlabeled and anonymous photographs. In the presence of these fossil-like representations of unnamed ancestors, we ponder the nature of family and anonymity, love and loss. It is this phenomenon that prompted editors Joell Hallowell and Meg Withers to invite responses from 34 poets to an eclectic collection of black and white photographs of women from the late 1800s to the 1940s. The resulting book is a collection of vibrant, thought-provoking poems by contemporary writers delving into the nature of memory and evidence-speculating about the never know, those who never made it into family legacy or lore. Shadowed is a book of wondering and inventing. It is a tribute to the unknown and to the often unheard.
---
Regrets Only: Contemporary Poets On The Theme Of Regret
Sixty-three poets from the United States, Europe and Australia contemplate the could-have-beens, should-have-beens, squandered chances, near misses, lost loves, shames and sorrows of regret. With rare insight, tenderness, courage and humor these poems invite us into the richness of lives lived fully.
---
Once Upon A Time: A Collection of Unexpected Fairytales
A collection of 89 modern and adapted fairytales (each is only 1-page long) from the Once Upon A Time Flash Fiction Competition, run in conjunction with UK National Flash Fiction Day, 16th May 2012. All proceeds go to the National Literary Trust (http://www.literacytrust.org.uk/).
---
The Four Seasons
In creating the fourth anthology of 2015, Kind of a Hurricane Press asked our authors to wander the pathways of the four seasons: Spring, Summer, Autumn and Winter. As always, our authors filled our metaphorical forests and parks with amazing work. We believe The Four Seasons will spark both your memories and your senses. Enjoy.
---
Element(ary) My Dear
In creating the fifth anthology of 2015, Kind of a Hurricane Press asked our authors to dabble with the four elements: earth, air, fire and water. The result was alchemical, to say the least. As always, our authors filled our pages with amazing creations. We believe Element(ary) My Dear will connect with all of your senses.Save
Save
Save
Save
Save
Save
Save
Save
Save